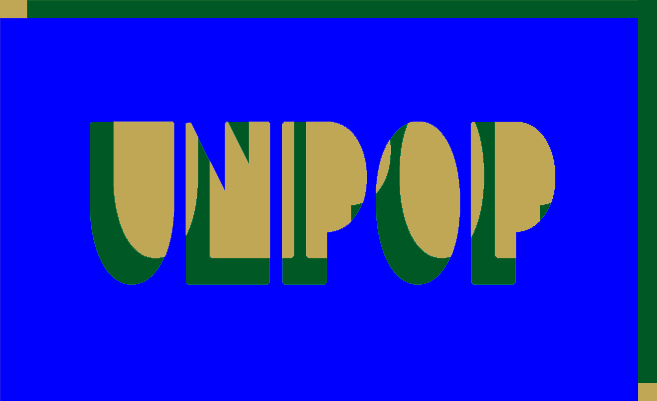 UNPOP, or "Unpopular Music," is an intimate, 8-channel listening environment. It features exquisite, detailed sound works, including field recordings, abstract electroacoustic music, ambient textures, and other non-beat-oriented sonic experiences. Encompassing a circular space 40 feet in diameter, the piece is built around a circle of small custom-built Hemisphere speakers by Isobel Audio, which enclose a listening area complete with soft couches for comfortable seating.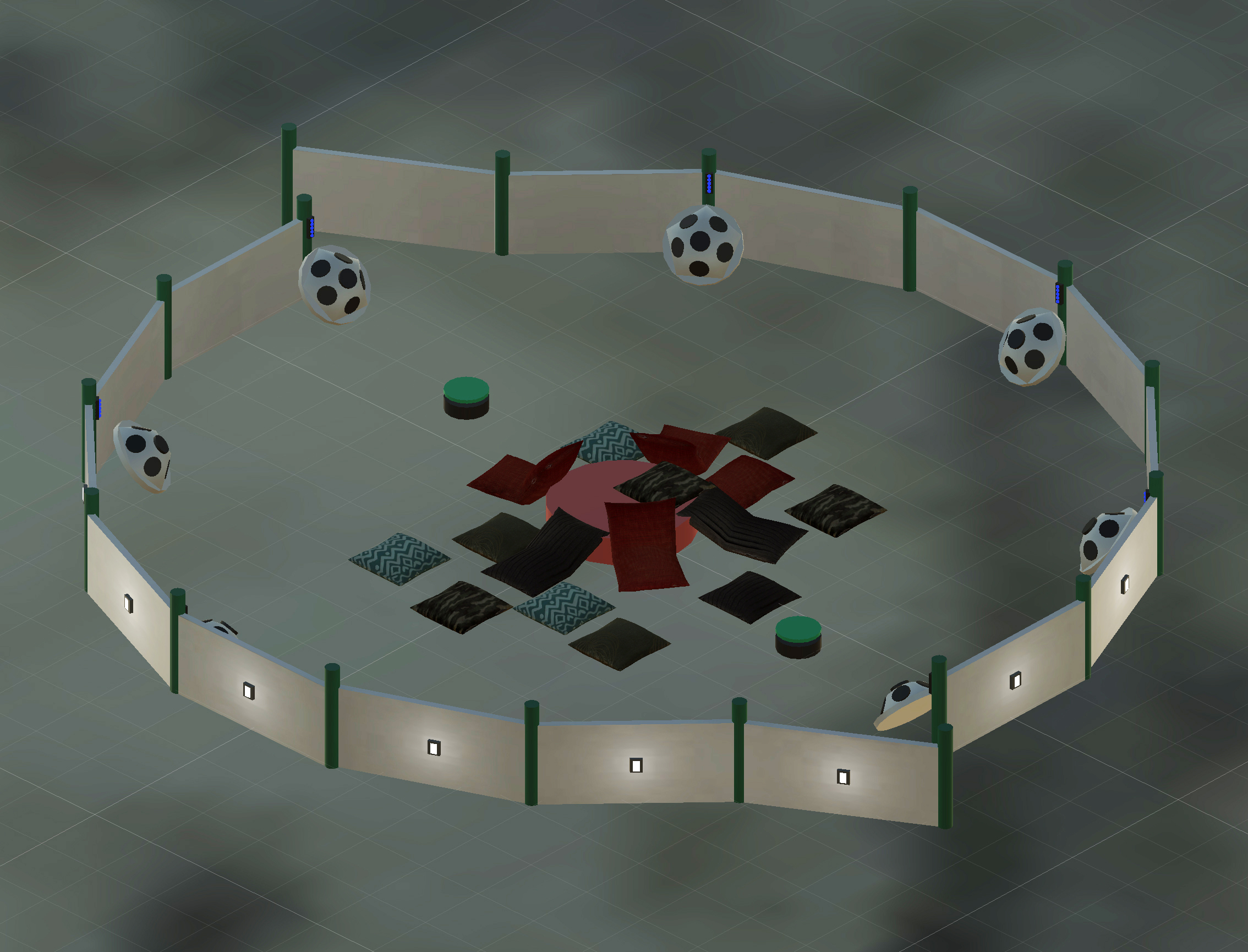 UNPOP is designed with the deep playa environment at Burning Man in mind, as well as the audience that is likely to encounter this listening sanctuary there. We have created multiple long programs of sound works for the Burning Man Festival that run from dust until dawn (6:30pm to 7:00am), which includes our own works, as well as curated pieces by dozens of composers and sound artists. In 2018, UNPOP contained the work of over 40 artists and was located at 12:15 and 7400' (distance from the Man, i.e. nearly at the trash fence). In 2019, this increased to 57 artists, and the piece migrated (slightly) to 11:43 and 6635'. After two years of a pandemic hiatus, we are excited to see where 2022 brings us!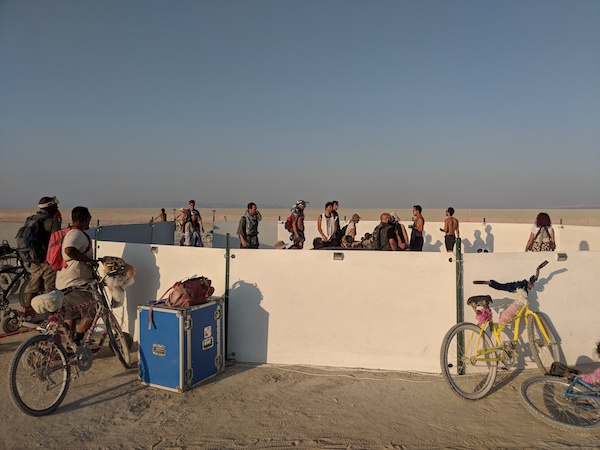 As sound artists and long-time burners, we have taken a special interest in the soundscape of Burning Man and the impact it has on its inhabitants: the city's overall sonic structure, the music camps heard from close by and far away, the happy and bewildered and noisy people, and the many artworks that include sound. We have noted the diversity of artistically crafted sounds available at Burning Man, but it remains true that the majority of sounds heard in the city come from beat-oriented dance music of all kinds.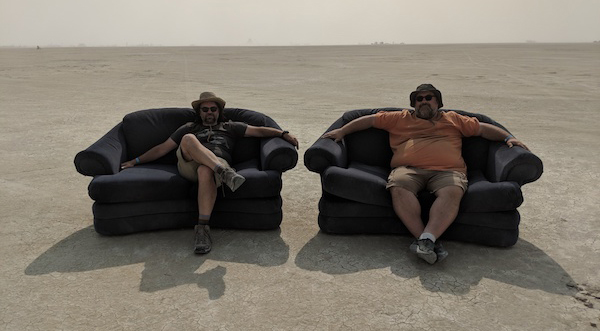 Lead Artists: Stephan Moore and Scott Smallwood, aka Evidence
As much as we love this, we have often longed to find alternative sonic experiences. Each year, we find ourselves spending much time roaming in the deep playa, where the unintended, aggregate soundscape of the city is at its most interesting. At night, the rumbling beats of the city come rolling across the playa and become textural, ebbing and flowing, and intermingling with soft local sounds: bicycles, people laughing softly, the wind, and sometimes ghosts, it seems. With over 20 years of playa experience between us, dating back to 2003, we are glad to be able to bring this project to Burning Man. It is a special sonic environment that will amaze and delight playa wanderers for years to come.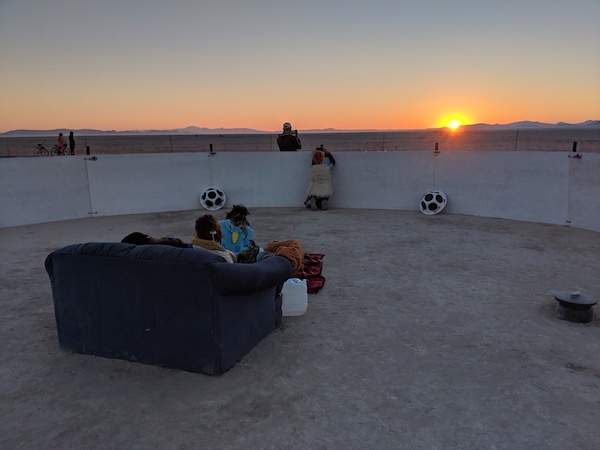 Many thanks to:
Our playa family, the Community Improvement Association (CIA) for allowing us to up the insanity ante in camp
George Rooney and Cameron Heinze, for generous and abundant brains and brawns
David Ogawa, Colin Sullivan, Garrett Sullivan, Luke Dahl, and Federico Visi, for early enthusiasm and brainstorming
The Smallwood family, for generously providing an ideal test site
Julie Smallwood, for helping us get the two amazing couches (pictured above) from the BV ReStore!
Bob Bielecki, for encouragement, advice, a mixer, and the Tsunami
Oxbow Design Build of Easthampton, MA for experimenting with speaker cabinets
Lauren Kriel and Julia Ferguson, interns, for lots of heavy lifting and delicate soldering
Jonesy Jones for audio tweaking, tuning, and program ordering in 2019.
Patrick Lile and Brian Perkinson at Northwestern University for making things easy
The CEC for connecting us with lots of great Canadian artists
SoundPocket Hong Kong for connecting us with their Sound Forms festival program
Burning Man's Art Placement Team, for giving us an awesome spot on the playa in 2018, and again in 2019!
Every artist who contributed their amazing work, and for all of the careful instructions and enthusiasm we received from them. Love it when people give a damn!
For you are lost, please visit the KTM.